Isolasi dan Seleksi Bakteri Antagonis untuk Pengendalian Penyakit Busuk Batang Panili (Vanilla planifolia Andrews) Secara In Vitro
I MADE ARIMBAWA

Program Studi Agroekoteknologi, Fakultas Pertanian Universitas Udayana

GUSTI NGURAH ALIT SUSANTA WIRYA

Program Studi Agroekoteknologi, Fakultas Pertanian Universitas Udayana

I MADE SUDANA

Program Studi Agroekoteknologi, Fakultas Pertanian Universitas Udayana

I MADE WINANTARA

Dinas Pertanian dan Pangan Kabupaten Badung
Abstract
Isolation and Selection of Antagonistic Bacteria to Control Stem Rot Disease on Vanilla Plant (Vanilla planifolia Andrews) by In Vitro Test.
Isolation, selection, and identification of effective microbes are important steps to obtain biological agents. The perpose of this research was to get potential bacteria as controlling agents for stem rot of vanilla. The research was conducted at Plant Disease Laboratory, Faculty of Agriculture, Udayana University, Denpasar, from December 2017 to February 2018. The research comprised of isolation and identification the pathogen of stem rot of vanilla, pathogenicity test, isolation and identification of antagonistic bacteria, in vitro test of antagonistic bacteria ability to controled the pathogen of stem rot of vanilla, and hypersensitive response of antagonistic bacteria on tobacco plant. The result showed that the pathogen of stem rot on vanilla plants was identified as Fusarium oxysporum. There of 21 isolates of bacteria that has been isolated from field, there were 7 isolates could suppress of F. oxysporum growth are isolates P001, P002, P003, P004, P005, BM02, and BM03. In vitro test of antagonistic bacterial with F. oxysporum showed that isolate P002 could suppress pathogen growth with the highest percentage (98,36%), P005 (98,34%), P001 (92,78%), P003 (82,02%), P004 (80,34%), BM02 (71,80%), and BM03 (66,70%). Hypersensitive respons test showed that isolates P001, P002, P003, P004, P005, BM02, and BM03 weren't pathogenic for plants.
Downloads
Download data is not yet available.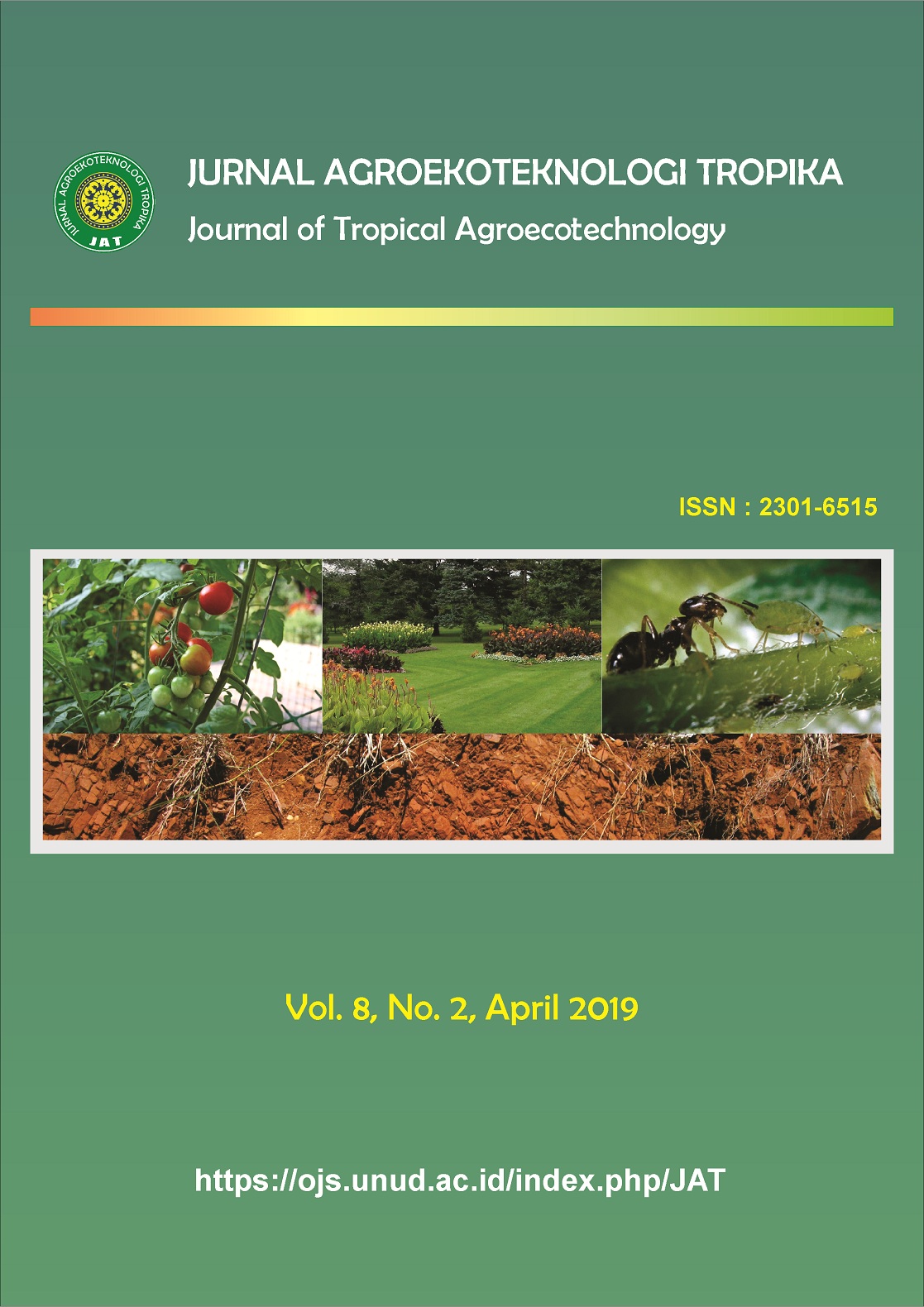 How to Cite
ARIMBAWA, I MADE et al. Isolasi dan Seleksi Bakteri Antagonis untuk Pengendalian Penyakit Busuk Batang Panili (Vanilla planifolia Andrews) Secara In Vitro.
Jurnal Agroekoteknologi Tropika (Journal of Tropical Agroecotechnology)
, [S.l.], p. 182-193, july 2019. ISSN 2301-6515. Available at: <
https://ojs.unud.ac.id/index.php/JAT/article/view/51196
>. Date accessed: 05 june 2023.