Pengaruh Beberapa Jenis Ekstrak Daun Gulma terhadap Biologi Ulat Krop Kubis (Crocidolomia pavonana F.) di Laboratorium
ANAK AGUNG GEDE GARBA YOGANTARA

Program Studi Agroekoteknologi, Fakultas Pertanian, Universitas Udayana. Jln. PB. Sudirman Denpasar 80231 Bali

I NYOMAN WIJAYA

Program Studi Agroekoteknologi, Fakultas Pertanian, Universitas Udayana. Jln. PB. Sudirman Denpasar 80231 Bali

MADE SRITAMIN

Program Studi Agroekoteknologi, Fakultas Pertanian, Universitas Udayana. Jln. PB. Sudirman Denpasar 80231 Bali
Abstract
Types Of Weed Leaf Extract On The Development Of Cabbage Caterpillar (Crocidolomia pavonana F.) In Laboratory
The research was conducted in laboratory of Plant Pest and Disease Faculty of Agriculture Udayana University, from October 2016 until February 2017 to test the three types of weed leaf extracts namely Lantana camara leaf, Wedelia trilobata leaf, Chromolaena odorata leaf and to know the biological development of caterpillar Crocidolomia pavonana after three types of weed leaf extracts were applied. This research used Completely Randomized Design (RAL) with 3 treatment of leaf extract at 50% concentration and 1 type without treatment (control), each repetition was done 10 times. The observation is done until the larvae do nothing activity (dead), or until it becomes imago. Testing three types of weed leaf extracts showed by the following results: the biological development of caterpillars C. pavonana with leaf extract application of L. camara gave the influence of the development of larvae into pupa very slow because it takes 16 days to become a pupa, while W. trilobata leaf extract only takes 12 days to become a pupa. However, with the leaf extract of C. odorata larvae did not reach the pupa and imago phase because this extract resulted in 100% death in the larval phase.
Downloads
Download data is not yet available.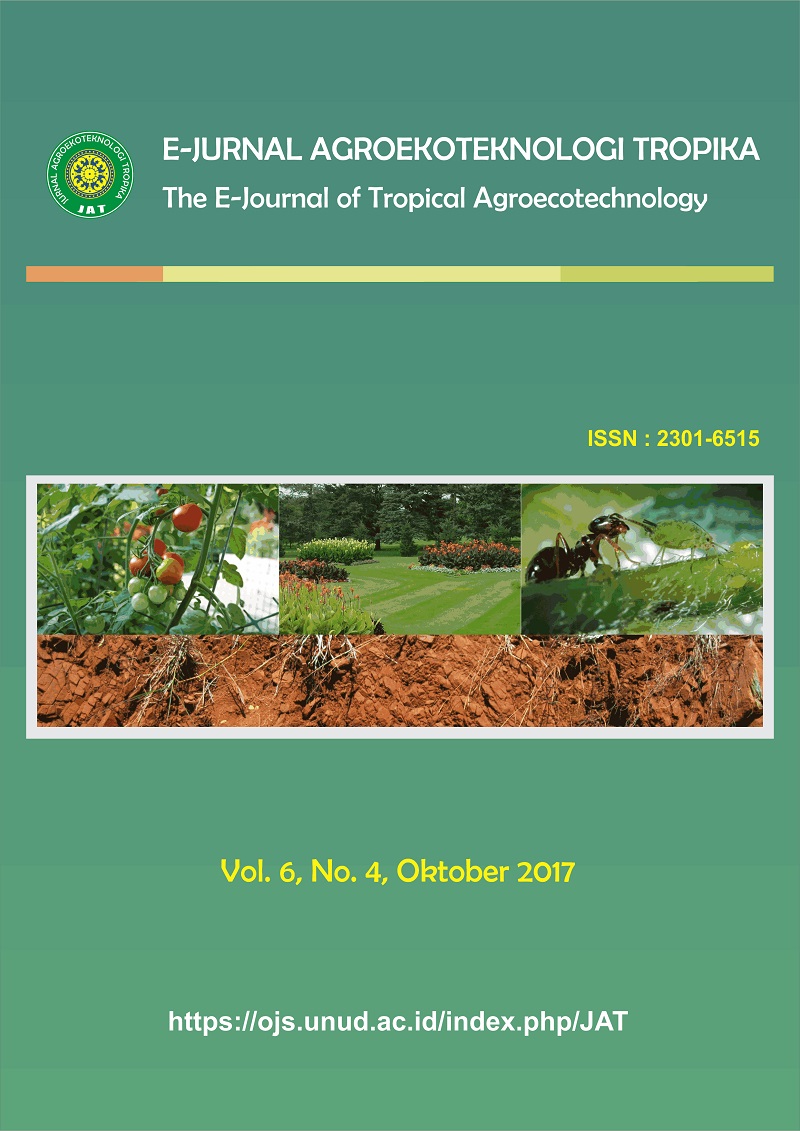 How to Cite
YOGANTARA, ANAK AGUNG GEDE GARBA; WIJAYA, I NYOMAN; SRITAMIN, MADE. Pengaruh Beberapa Jenis Ekstrak Daun Gulma terhadap Biologi Ulat Krop Kubis (Crocidolomia pavonana F.) di Laboratorium.
Jurnal Agroekoteknologi Tropika (Journal of Tropical Agroecotechnology)
, [S.l.], p. 370-377, oct. 2017. ISSN 2301-6515. Available at: <
https://ojs.unud.ac.id/index.php/JAT/article/view/35599
>. Date accessed: 24 oct. 2021.