Sistem Informasi Lahan Subak Berbasis Penginderaan Jauh Dan Sistem Informasi Geografi Di Kota Denpasar
JEREMIA KEVIN RONIO HUTAURUK

Jurusan/Prodi Agroekoteknologi Fakultas Pertanian Universitas Udayana

INDAYATI LANYA

Jurusan/Prodi Agroekoteknologi Fakultas Pertanian Universitas Udayana

I WAYAN NUARSA

Jurusan/Prodi Agroekoteknologi Fakultas Pertanian Universitas Udayana
Abstract
Information System of Subak Land on Remote Sensing and Geographic Information Systems in Denpasar City
The aims of this research are: to produce the map of subak in Denpasar. to provide the information system of subak land on remote sensing and geographic information systems (GIS). To analyse the existing of subak with RTHK in RTRW Denpasar 2011-2031. Te method which used is satellite imagery Worldview analysis, field survey, the arrangement of resource database and analysis spasial data of subak compatibility with RTHK.
The Result of research: subak map of Denpasar, land area subak map of Denpasar, table and graphic of relation analysis between land area of subak as the result of image digitation and land area of BPS. Subak research database in Arcview and overlay map of subak land with RTHK Denpasar. There is a significant relation between the land area of subak as the result of image digitation and land area of BPS. One of the factors is there is a different of changing until 100% caused by it was still attached the data of the land area of the East Peraupan Subak in BPS data about 15 ha while the information from Pekaseh, it has no field anymore since 1992. Therefore the amount of subak in Denpasar are 41 subak. The relation analysis between subak land and RTHK are the field which belongs to RTHK is about 1.198,25 ha, the largest is in East Denpasar (472,06 ha), the field that outside of RTHK is about 810,01 ha, the largest is in South Denpasar (251,86 ha), the field could be converted to the non agriculture land. The non field in RTHK is about 339,37 ha, the largest is in east Denpasar (167,74 ha).
Downloads
Download data is not yet available.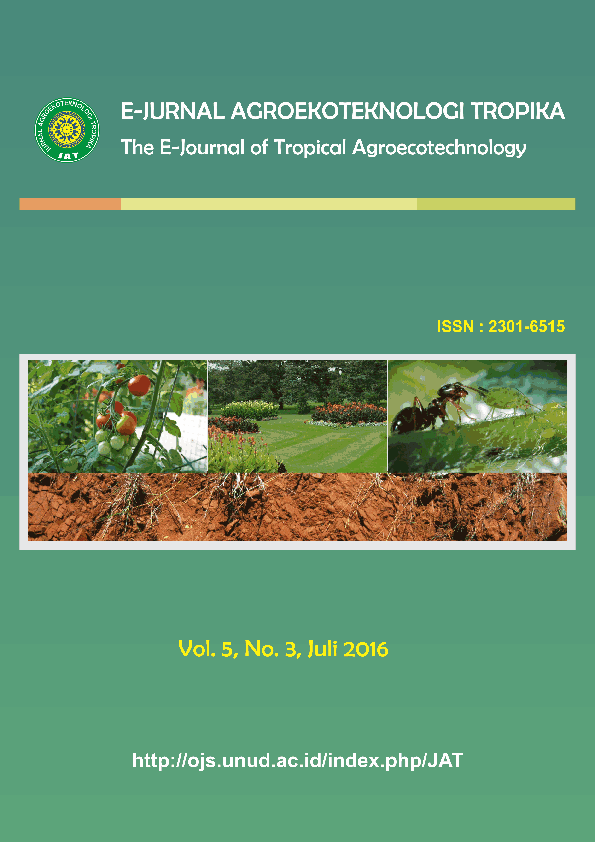 How to Cite
HUTAURUK, JEREMIA KEVIN RONIO; LANYA, INDAYATI; NUARSA, I WAYAN. Sistem Informasi Lahan Subak Berbasis Penginderaan Jauh Dan Sistem Informasi Geografi Di Kota Denpasar.
Jurnal Agroekoteknologi Tropika (Journal of Tropical Agroecotechnology)
, [S.l.], p. 284-296, july 2016. ISSN 2301-6515. Available at: <
https://ojs.unud.ac.id/index.php/JAT/article/view/22421
>. Date accessed: 16 may 2021.
Keywords
Information System of Subak Resources; GIS; Remote Sensing; RTHK