Profil Tenaga Kerja Industri Kerajinan Batok Kelapa pada Perusahaan Eka Lestari Mandiri di Desa Abang, Kecamatan Abang, Kabupaten Karangasem
I PUTU AGUNG SATRIA PERMANA

Program Studi Agribisnis, Fakultas Pertanian, Universitas Udayana Jalan PB Sudirman Denpasar 80232

I DEWA GD. RAKA SARJANA

Program Studi Agribisnis, Fakultas Pertanian, Universitas Udayana Jalan PB Sudirman Denpasar 80232

NYOMAN PARINING

Program Studi Agribisnis, Fakultas Pertanian, Universitas Udayana Jalan PB Sudirman Denpasar 80232
Abstract
Abstract

Profile of Labour Coconut Shell Handicraft Industry by Eka Lestari Mandiri Company in Abang Village, Abang District, Karangasem Regency
This study aimed to determine the profile of the workforce in coconut shell crafts industry Eka Lestari Mandiri viewed from the aspect of demography, economic aspects, technical aspects, reason for working as a craftsman and barriers to work. The method used is the method of direct interviews with 30 respondents were chosen deliberately. The analysis used is descriptive analysis. The results show is based on the characteristics of demography, most artisans are in the productive age group were entirely female with marital status 50% were married on average have a dependent child as much as a child. Education level only finished elementary school. Based on the characteristics of the economic aspect, there is a wage level of the smallest wage of Rp. 1,000.00 per unit and the total of Rp. 100,000.00 per unit with an average working hours from 3.0 hours to 5.1 hours per day in which the work as a craftsman is a side job has been working for more than five years. Based on the characteristics of the technical aspects, raw material preparation requires a total time of 45 minutes, on average the manufacture of products takes 15 minutes to 16 hours to finish takes a total of 45 minutes. The main reason respondents worked as craftsmen coconut seen from an internal factor is to fill the spare time while external factors are the work can be done at home craftsmen. Barriers experienced by respondents of students present in the manufacture of technical products and for the respondents craft housewife for religious activities led to a reduced pengerjaaan products that have an impact on the income of the respondents.
Keywords: profile, craftman, coconut shell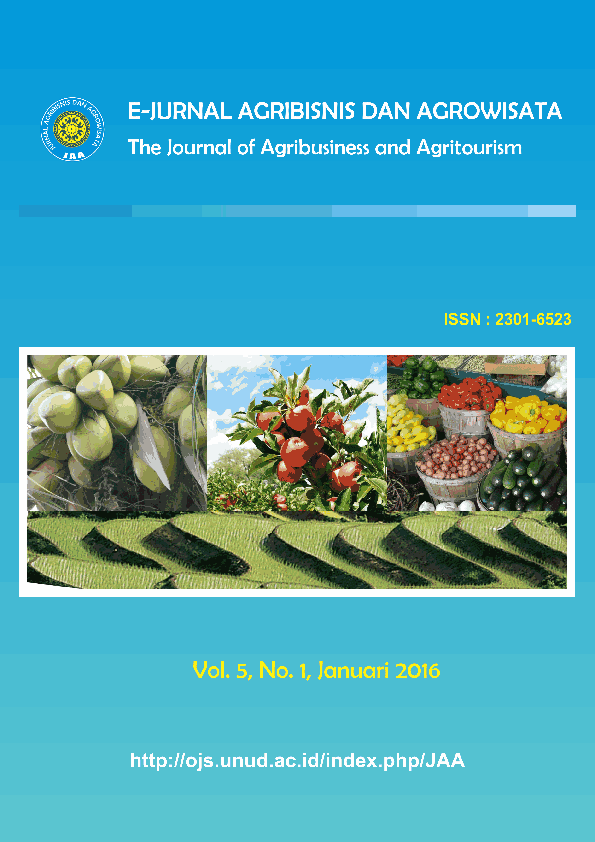 How to Cite
PERMANA, I PUTU AGUNG SATRIA; SARJANA, I DEWA GD. RAKA; PARINING, NYOMAN. Profil Tenaga Kerja Industri Kerajinan Batok Kelapa pada Perusahaan Eka Lestari Mandiri di Desa Abang, Kecamatan Abang, Kabupaten Karangasem.
Jurnal Agribisnis dan Agrowisata (Journal of Agribusiness and Agritourism)
, [S.l.], jan. 2016. ISSN 2685-3809. Available at: <
https://ojs.unud.ac.id/index.php/JAA/article/view/18646
>. Date accessed: 24 jan. 2020.