Analisis Pendapatan Usahatani Padi Bersertifikat Organik (Kasus Kelompok Tani Gana Sari Kabupaten Badung)
NI KADEK PONIAMBA SETIAWATI,

Program Studi Agribisnis Fakultas Pertanian Universitas Udayana Jalan PB Sudirman 80232 Bali

I KETUT SUAMBA

Program Studi Agribisnis Fakultas Pertanian Universitas Udayana Jalan PB Sudirman 80232 Bali

A.A.A WULANDIRA SAWITRI DJELANTIK

Program Studi Agribisnis Fakultas Pertanian Universitas Udayana Jalan PB Sudirman 80232 Bali
Abstract
Abstract
Analysis of Certified Organic Rice Farming Income
(Case Farmers Group of Gana Sari District of Badung)
Gana Sari group is engaged in the development of organic rice and has organic certificate, necessary to study the analysis of certified organic rice farming income . This study conducted to determine the amount of income , the R / C ratio and application of Internal Control System ( ICS ) at the Farmer Group of Gana Sari. Determination respondents income analysis by cencus and key informants to determine the application of the ICS. The analysis is the farm income , R / C ratio , and descriptive analysis . The result showed an average cash reached Rp 19.293.373,52 and the total income reached Rp 16.023.633,71 per hectare per cropping season. The value of R / C ratio of the total cost was 2.41 and comparison of the cost is 3.38 . The indicates is the certified organic rice farming viable. ICS of gana sari group applied to entire process of culvation and infrastructure including warehouse or farmhouses. ICS carried inspector on all members of farmer and external oversight by LeSos. Suggested  to farmers in order to maintain the rice farm is certified organic, farmer groups and ICS officials filed a related department in order to help the staff ICS purchasing, storage, and processing can carry out their duties. Training of the farmers also need to be done continuosly so that farmers consistent to maintain the certificate.
Keyword : farmbusiness, rice certified organic, revenue, internal control system
Downloads
Download data is not yet available.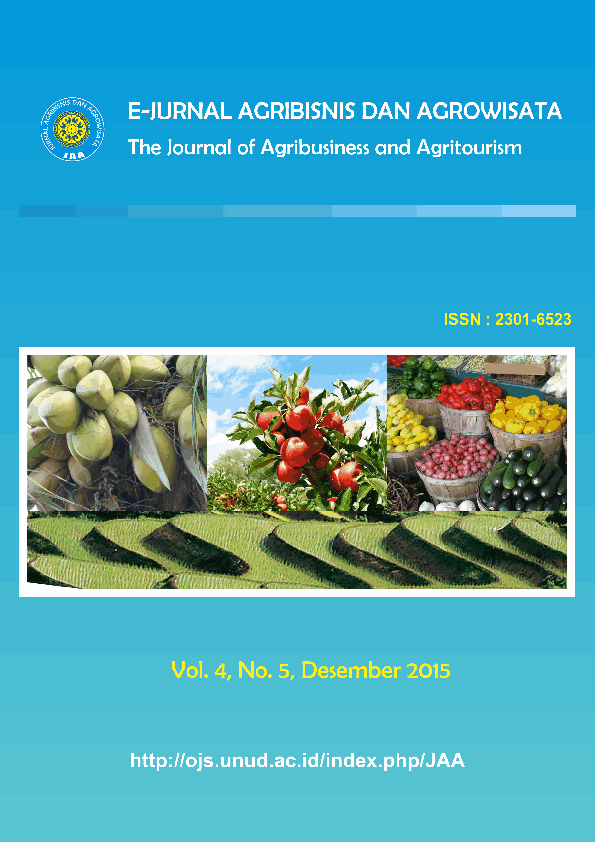 How to Cite
SETIAWATI,, NI KADEK PONIAMBA; SUAMBA, I KETUT; DJELANTIK, A.A.A WULANDIRA SAWITRI. Analisis Pendapatan Usahatani Padi Bersertifikat Organik (Kasus Kelompok Tani Gana Sari Kabupaten Badung).
Jurnal Agribisnis dan Agrowisata (Journal of Agribusiness and Agritourism)
, [S.l.], jan. 2016. ISSN 2685-3809. Available at: <
https://ojs.unud.ac.id/index.php/JAA/article/view/17419
>. Date accessed: 30 mar. 2020.