Analisis Profitabilitas Peternakan Ayam Ras Petelur Pada UD BS (BIYASE) Desa Babahan, Kecamatan Penebel, Kabupaten Tabanan
NI MADE SRI PUSPITAWATI

Program Studi Agribisnis, Fakultas Pertanian, Universitas Udayana Jl. PB Sudirman Denpasar 80232 Bali

MADE SUDARMA

Program Studi Agribisnis, Fakultas Pertanian, Universitas Udayana Jl. PB Sudirman Denpasar 80232 Bali

A.A.A WULANDIRA SAWITRI DJELANTIK

Program Studi Agribisnis, Fakultas Pertanian, Universitas Udayana Jl. PB Sudirman Denpasar 80232 Bali
Abstract
ABSTRACT
The Profitability Analysis on the Laying Poultry Farm of UD BS (BIYASE) of Babahan Village, Sub-district of Penebel, the Regency of Tabanan
UD BS which located in the village of Babahan, Penebel Sub-district, the Tabanan Regency is one of the laying poultry farms, with number of approximately 60,000 population of chickens. The farm was founded in 1995 and until now it has never been performing a good financial analysis. This study aims to determine the level of profitability, the value of BEP and the public perception on the UD BS. The results of the study showed that the average value of GPM in 2012 and 2013 were 39,55% and 50,61%, the average value of NPM in 2012 and 2013 were 36,35% and 48,16%, the average value of ROA in 2012 and 2013 were 47,99% and 83,72%, and the average value of ROE in 2012 and 2013 were 119,98% and 209,29%. This indicates that the farm business is quite profitable because the level of profitability is above that of the industry average. The average of the BEP units showed that in 2012 it reached to 739.635 eggs and in 2013 amounted to 589.832 eggs, while the average of the BEP of prices were Rp 759.362.414,83 in 2012 and Rp 652.781.310,90 in 2013. The perception of the public who live around the village of Babahan is positive. However, the members of Subak Munduk Lenggung and Subak Bayem think that UD BS has a negative impact for environment, but it has a positive impact on the socio-economic conditions.
Downloads
Download data is not yet available.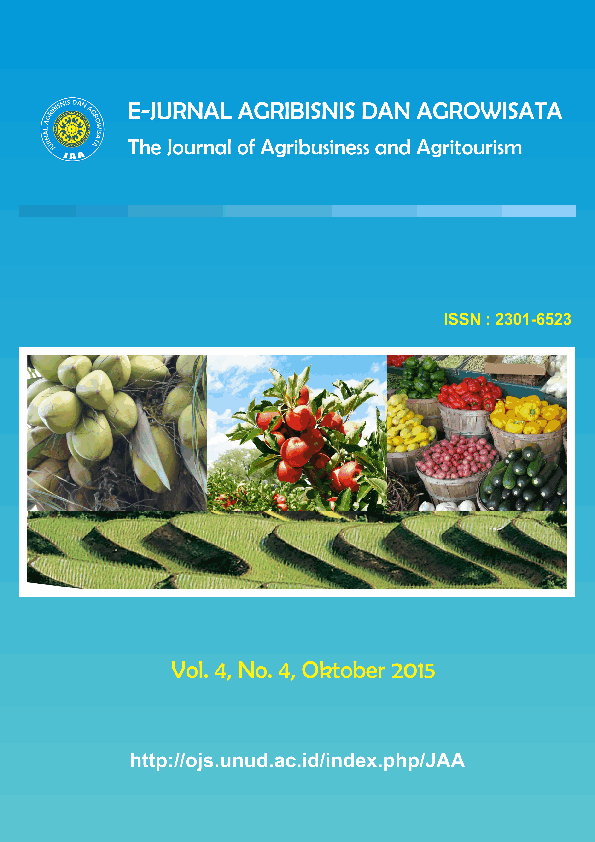 How to Cite
PUSPITAWATI, NI MADE SRI; SUDARMA, MADE; DJELANTIK, A.A.A WULANDIRA SAWITRI. Analisis Profitabilitas Peternakan Ayam Ras Petelur Pada UD BS (BIYASE) Desa Babahan, Kecamatan Penebel, Kabupaten Tabanan.
Jurnal Agribisnis dan Agrowisata (Journal of Agribusiness and Agritourism)
, [S.l.], jan. 2016. ISSN 2685-3809. Available at: <
https://ojs.unud.ac.id/index.php/JAA/article/view/17411
>. Date accessed: 30 mar. 2020.