Strategi Pemasaran Pupuk Organik PT Biotek Indonesia Hijau Untuk meningkatkan Kinerja Perusahaan
LUH PUTU DEWI SUKMAYANTI

Program Studi Agribisnis, Fakultas Pertanian, Universitas Udayana Jalan PB Sudirman 80232 Bali

KETUT BUDI SUSRUSA

Program Studi Agribisnis, Fakultas Pertanian, Universitas Udayana Jalan PB Sudirman 80232 Bali

NYOMAN PARINING

Program Studi Agribisnis, Fakultas Pertanian, Universitas Udayana Jalan PB Sudirman 80232 Bali
Abstract
Abstract
Marketing Strategies of Organic Fertilizers at PT Biotek Indonesia Hijau to improve the Performance of the Company
This study aimed at identifying and determining the internal environment (strengths and weaknesses) and the external environment (opportunities and threats), the position of the business and marketing strategies that should be implemented by PT BIH based on the current position of the company. The method of analysis used in this study was the analysis of the corporate environment, which consists of a matrix of IFE (Internal Factor Evaluation), EFE matrix analysis (External Factor Evaluation), and analysis of the BCG matrix (Boston Consulting Group). The results of the analysis of the IFE matrix was that PT BIH had a score of 2.50. The results of the analysis of EFE matrix was that PT BIH had a score of 3.15. BCG matrix analysis through the analysis of market growth rate and relative market share, it is known that in 2013 Biobali had a growth rate of 2.30% and the market value of the relative market share of 2.40%. PT BIH position was in the cell of Cash Cows. This means that companies with a market share is relatively large and at the same time only operate at a low market or not grow. Based on the position of the company, it can be produced alternative strategies that should be applied to the company, the product development strategy Product Development Strategy and Concentric diversification strategy.
Keywords: Marketing Strategy, Organic Fertilizer, IFE, EFE, BCG.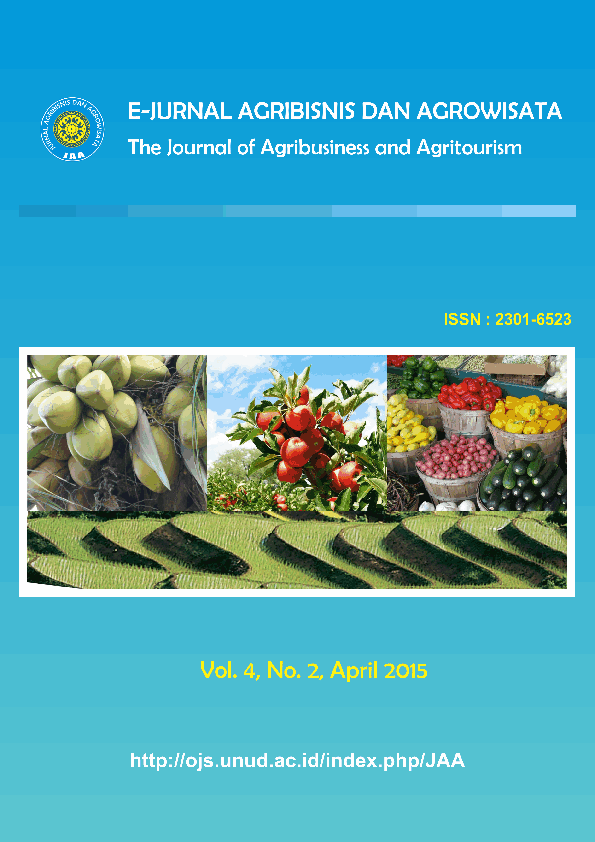 How to Cite
SUKMAYANTI, LUH PUTU DEWI; SUSRUSA, KETUT BUDI; PARINING, NYOMAN. Strategi Pemasaran Pupuk Organik PT Biotek Indonesia Hijau Untuk meningkatkan Kinerja Perusahaan.
Jurnal Agribisnis dan Agrowisata (Journal of Agribusiness and Agritourism)
, [S.l.], jan. 2016. ISSN 2685-3809. Available at: <
https://ojs.unud.ac.id/index.php/JAA/article/view/17390
>. Date accessed: 18 jan. 2020.