POTENSI ENERGI LISTRIK YANG DIHASILKAN DARI EMISI GAS METANA DI TPA SUWUNG PROVINSI BALI
Putu Dian Paramitha Dewi

Program Studi Magister Ilmu Lingkungan Univ Udayana

I Wayan Suarna

Fakultas Peternakan, Universitas Udayana

I Wayan Budiarsa Suyasa

Fakultas MIPA, Universitas Udayana
Abstract
Waste is one source of greenhouse gas emissions (GHG) that has methane gas form which caused an early multi-dimensional, massive and complex problems. The rapid increase of garbage volume entering landfill, annually result a high garbage dumps in the Suwung Landfill area. It should have been considered a handing solution for example by converting the methane gas content in the waste into a useful value added product. The objective of this research is determining the amount of electrical energy that can be produced through methane gas emission at Suwung Landfill. The characteristic and composition of waste could give effect to the formation of methane emissions. The research on the composition and characteristic of waste were done by sorting 1 m3 of garbage sample from new garbage entering landfill. Garbage is divided based on the source of DLHK waste, market waste, and private waste. The volume of waste that went to Suwung Landfill in 2016 calculated 1.296.438 m3 which was dominated by organic waste (78,1%). The density of the waste that went into Suwung Landfill, based on the research's results, amounted to 135,09 kg / m3, there fore could be assumed that the weight of waste that went to Suwung Landfill in 2016 was 175.135,81 tons. Based on these data, the number of 136.785,13 tons of waste, which was organic waste, could increase the concentration of greenhouse gases in the atmosphere if this situation does not manage properly. Gravimeter method is using for measures the dry matter content value of waste. From the measurement, the results obtained the waste components that have the highest dry matter content is from rubber and leather garbage (76,52%) while the lowest dry matter is food waste (19,13%). By using calculations based on IPCC 2006, it was found that the amount of methane emissions could be generated by the waste at the Suwung Landfill in 2016, amounted to 3.535,06 tons. Based on the energy equivalence table, the electrical power that is generated from the potential methane emissions at the Suwung Landfill is 6,66 MW.
Keywords: waste composition, waste characteristics, methane emissions, ipcc2006, electrical power.
Downloads
Download data is not yet available.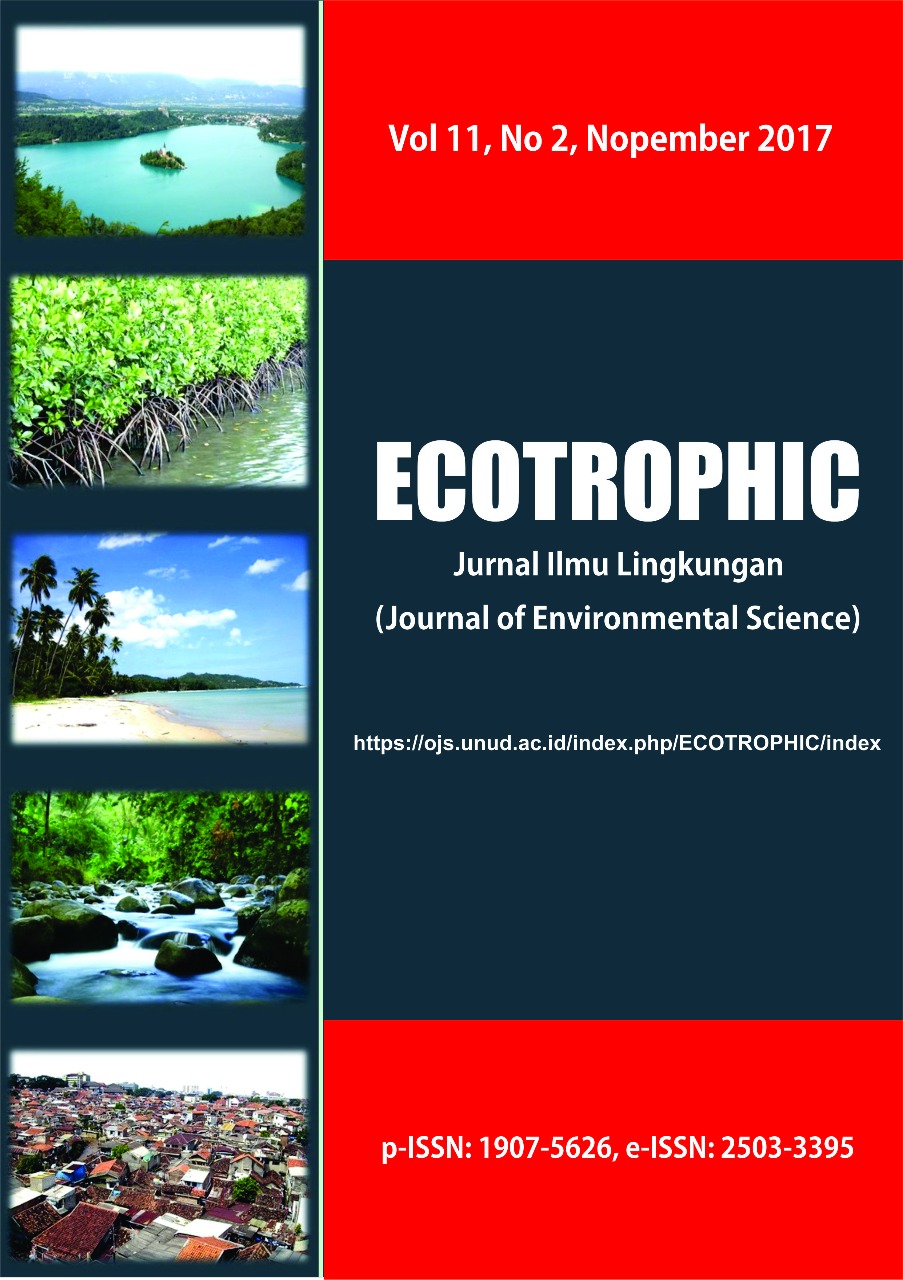 This work is licensed under a Creative Commons Attribution 4.0 International License.