IDENTIFIKASI SUMBER PENCEMAR DAN KUALITAS AIR SUNGAI DI DESA CANGGU DAN DESA DALUNG KECAMATAN KUTA UTARA KABUPATEN BADUNG
Anggi Suprabawati

I Ketut Sundra
Abstract
The Identification of source pollution was done with sum up the data of the activity which have potency toreleasing liquid waste with the method of spreading questioner. Quality research water river was done at 15 pointsampel (PS) in Tukad Umalas, Tukad Pangi and Tukad Canggu. Activity of human being representing source ofpolution in Countryside Dalung is consist of : settlement 90.84%, restaurant 6.55%, laundry 0.841%, motor workshop0.474%, car workshop 0.604%, motor wash 0.604%, car wash 0.086%. Activity of human being representing sourcepolution in Countryside Canggu is settlement 63.97%, restaurant 17.23%, lodging 17.68%, laundry 0.393%, motorworkshop 0.393%, motor wash 0.136%, car wash 0.112%. car workshop 0.112%. Volume of Liquid waste from eachactivity of human being per day in Countryside Dalung is consist of : settlement 5056.8 m3, motor wash 35.26 m3,restaurant 33.63 m3, laundry 8.934m 3, car wash 5.94 m3, car workshop 2.22 m3 and motor workshop 2.04 m3. Volumeliquid waste from each of activity of human being per day in Countryside Canggu is settlement 1368 m3, restaurant173.22 m, hotel 34.17 m3, car wash 14.48 m3, motor workshop 1.86 m3, motor wash 0.72 m3, laundry 0.4297 m3 andcar workshop 0.3 m3.Analysis of water with value of pollution index (IP) based on water quality class 2,TS-6 is middle polluted,and fourteenth of TS is slightly polluted. Based on water quality class 3, TS-1 to TS-7 and TS-14 is fill water qualitycriteria And TS-8 to TS-15 is slightly polluted. Based on water quality class 4, TS-3 still fill the quality criteria andfourteenth of TS is slightly polluted
Downloads
Download data is not yet available.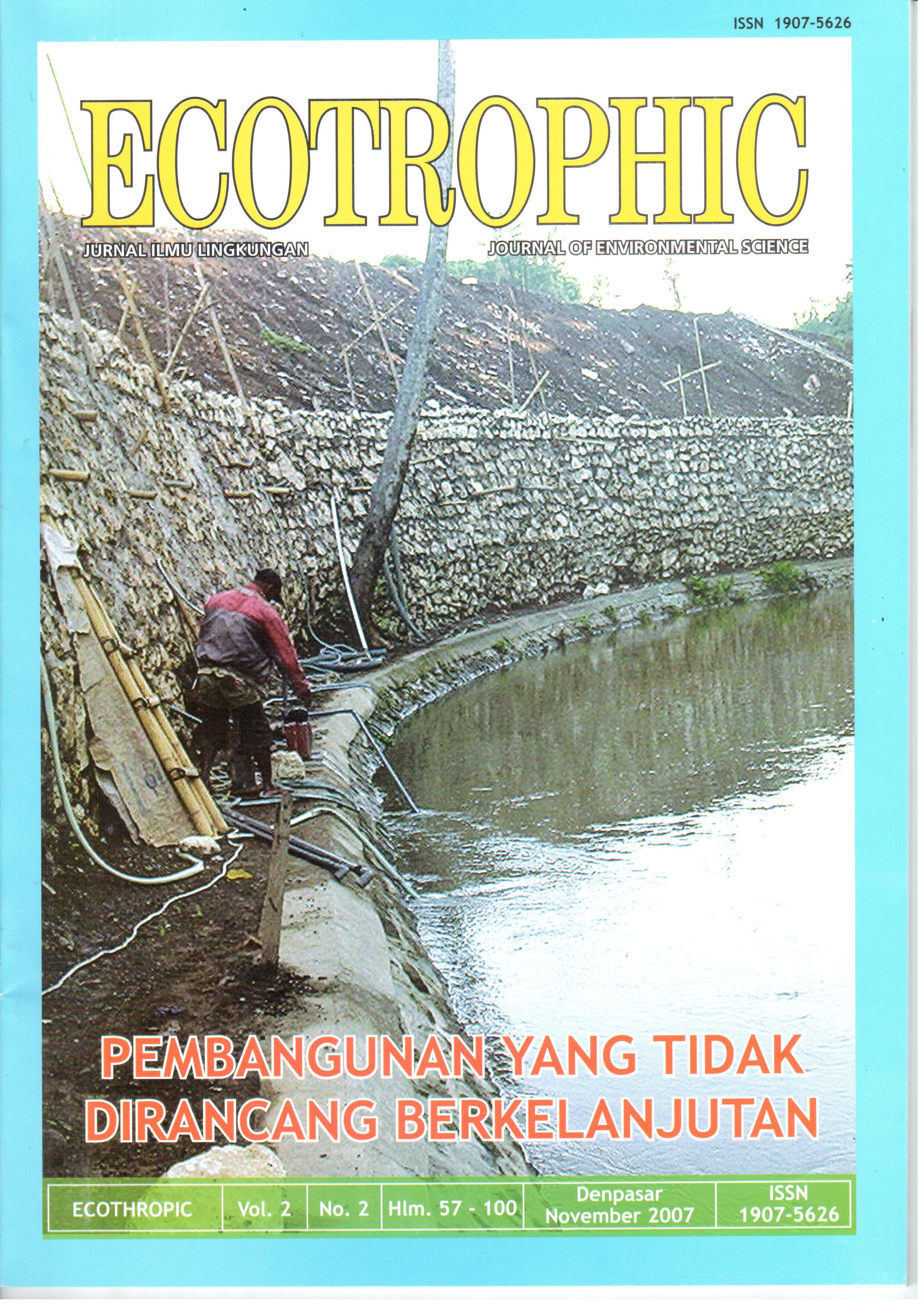 How to Cite
SUPRABAWATI, Anggi; SUNDRA, I Ketut. IDENTIFIKASI SUMBER PENCEMAR DAN KUALITAS AIR SUNGAI DI DESA CANGGU DAN DESA DALUNG KECAMATAN KUTA UTARA KABUPATEN BADUNG.
ECOTROPHIC : Jurnal Ilmu Lingkungan (Journal of Environmental Science)
, [S.l.], v. 2, n. 2, nov. 2012. ISSN 1907-5626. Available at: <
https://ojs.unud.ac.id/index.php/ECOTROPHIC/article/view/2472
>. Date accessed: 03 apr. 2020.
Keywords
Identify , human activity, liquid waste, water quality.