EVALUASI PENGELOLAAN REFRIGERAN CFC, DAN HFC DENGAN MESIN 3R DAN UJI UNJUK KERJA MESIN PENDINGIN STUDI KASUS PADA BENGKEL AC MOBIL DI DENPASAR - BALI
I MADE RASTA

Jurusan Teknik Mesin, Politeknik Negeri Bali

I.W. Kasa

Jurusan Biologi FMIPA Unud

I Gede Mahardika

Fakultas Peternakan Unud
Abstract
CFC refrigerant has been known to be one of causes of ozone layer diminishing and HFC is one of green house gases contributing to global warming through the leak and synthetic refrigerant waste to environment. As a response to the ozone layer diminishment on stratosphere, UNEP, in 1981, through a negotiating process of international stages of development reserve the ozone layer through Wina Convention legalized in March 1985. It was then followed up with Montreal Protocol in September 1987 consisting supervision rules on producing, consuming, and treading ozone damaging materials. The government of Indonesia had ratified the convention through President Decree Number 23 Year 1999. The ozone layer reservation program implementation in Indonesia is facilitated by KLH. Governor of Bali issued Decree Number 523/04-B/HK/2010 on membership restructuring of ozone layer reservation and ozone damaging materials control team work in province of Bali. This research was done in 27 car AC service companies or workshop, which received grant of 3R engine in Denpasar, Bali. The research was dominantly focused on monitoring and evaluation, that is how car AC service company or workshop manage CFC/ R-12 and HFC/R-134a refrigerant at service time using 3R engine that refrigerant does not escape to atmostphere. Cooling machine work procedure test (COP) was conducted in laboratory. Research result showed that car AC service company or workshop could manage CFC/ R-12 and HFC /R-l 34a eefctively ( 88,3%). The cooling engine work procedure using CFC /R-12 as the result of 3R engine recovery and recycel resulted in 2,435 while pure CFC/R-12 resulted in 2,54. There were differences in cooling engine work procedure to the use of pure CFC/R-12 refrigerant with that resulted by 3R engine with avarage difference 0,089 or 3,53%.
Downloads
Download data is not yet available.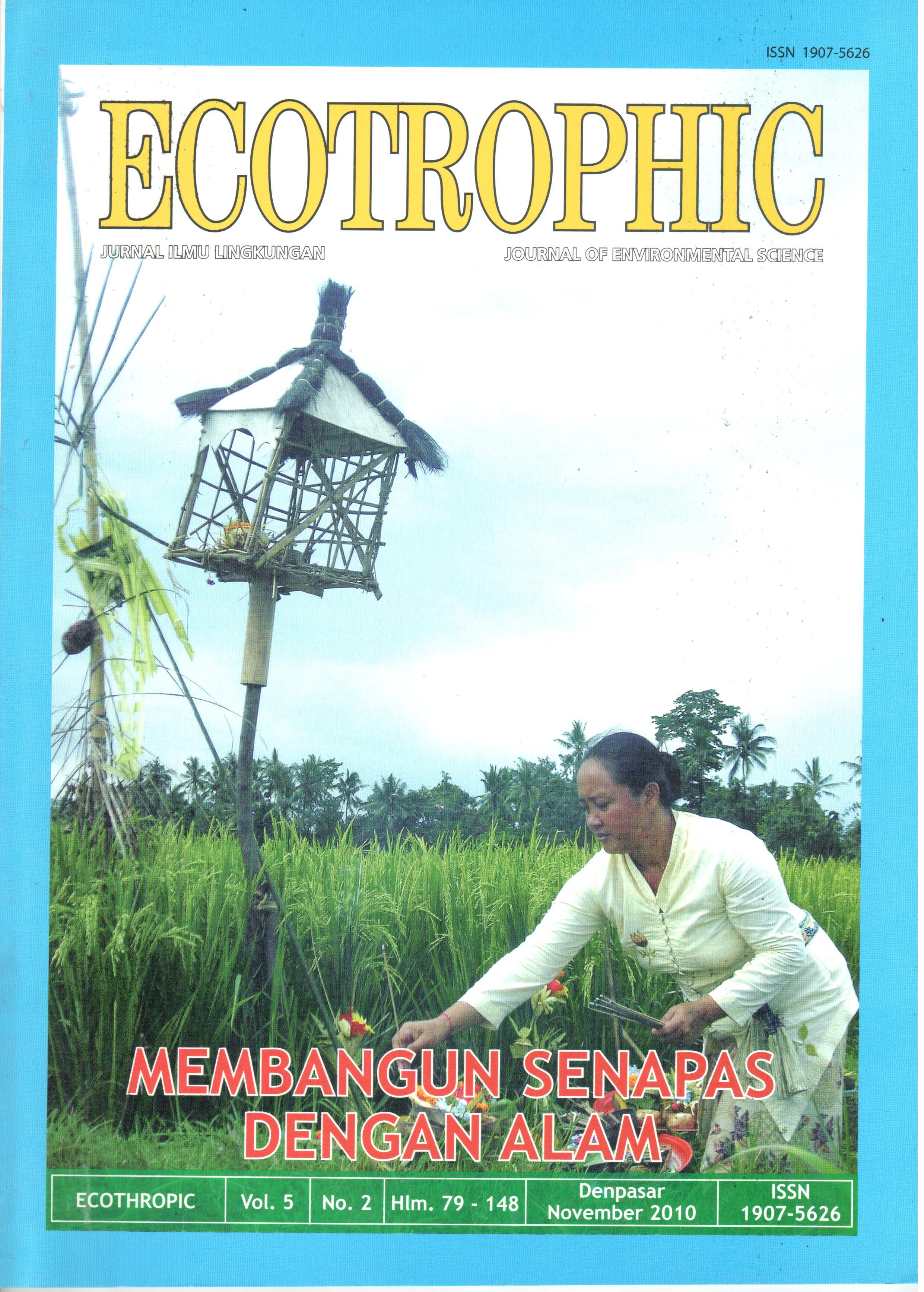 How to Cite
RASTA, I MADE; KASA, I.W.; MAHARDIKA, I Gede. EVALUASI PENGELOLAAN REFRIGERAN CFC, DAN HFC DENGAN MESIN 3R DAN UJI UNJUK KERJA MESIN PENDINGIN STUDI KASUS PADA BENGKEL AC MOBIL DI DENPASAR - BALI.
ECOTROPHIC : Jurnal Ilmu Lingkungan (Journal of Environmental Science)
, [S.l.], v. 5, n. 2, p. 98 - 103, nov. 2010. ISSN 1907-5626. Available at: <
https://ojs.unud.ac.id/index.php/ECOTROPHIC/article/view/13589
>. Date accessed: 25 oct. 2020.
Keywords
CFC, HFC, 3R engine, car AC, refrigerant management, COP