ANALISIS STATUS LINGKUNGAN IRIGASI TUKAD YEH EMPAS DAN SUBAK MUNDUK LENGGUNG DI DUSUN BOLANGAN DESA BABAHAN KECAMATAN PENEBEL KABUPATEN TABANAN
I NYOMAN SUMANTRA

PPE Bali Nusra

I Wayan Suarna

Fakultas Peternakan Unud
Abstract
Livestock is one business that was developed in order to meet basic human needs of the flesh. In its development, livestock will produce waste harmful to the environment. The purpose of this study to determine the characteristics and environmental management of farms, the quality and quantity of waste and its impact on the environment and to know the public perception and labor to the impact of livestock on the environment, economy and social life of communities around the farm and ranch labor. Characteristics and environmental management by the entrepreneur obtained by distributing questionnaires livestock determination of the sample by random sampling, samples for the determination of the quality and quantity of livestock waste with purposive sampling. Samples were taken at three points of different sewage farms and compared with the Minister of State for the Environment No. 11 of 2009 and four points on the body of water and then compared with the Bali gubernatorial No.8 of 2007. Samples were analyzed in situ and laboratory. To know the public perception and labor obtained by distributing questionnaires determination of samples with random sampling. Environmental management by the entrepreneur is less cattle. quality of wastewater from hog farms shows the parameters of TSS (1082.57 mg / 1). quantity of wastewater from pig farms outlet (Qo2) 0.004 m3/dt, TSS pollutant load on a pig farm (4330.68 mg / dt). Parameter that exceeds the quality standard on water bodies (TSS, BOD5, COD). Public perception and labor to the impact of farm businesses is positive (good).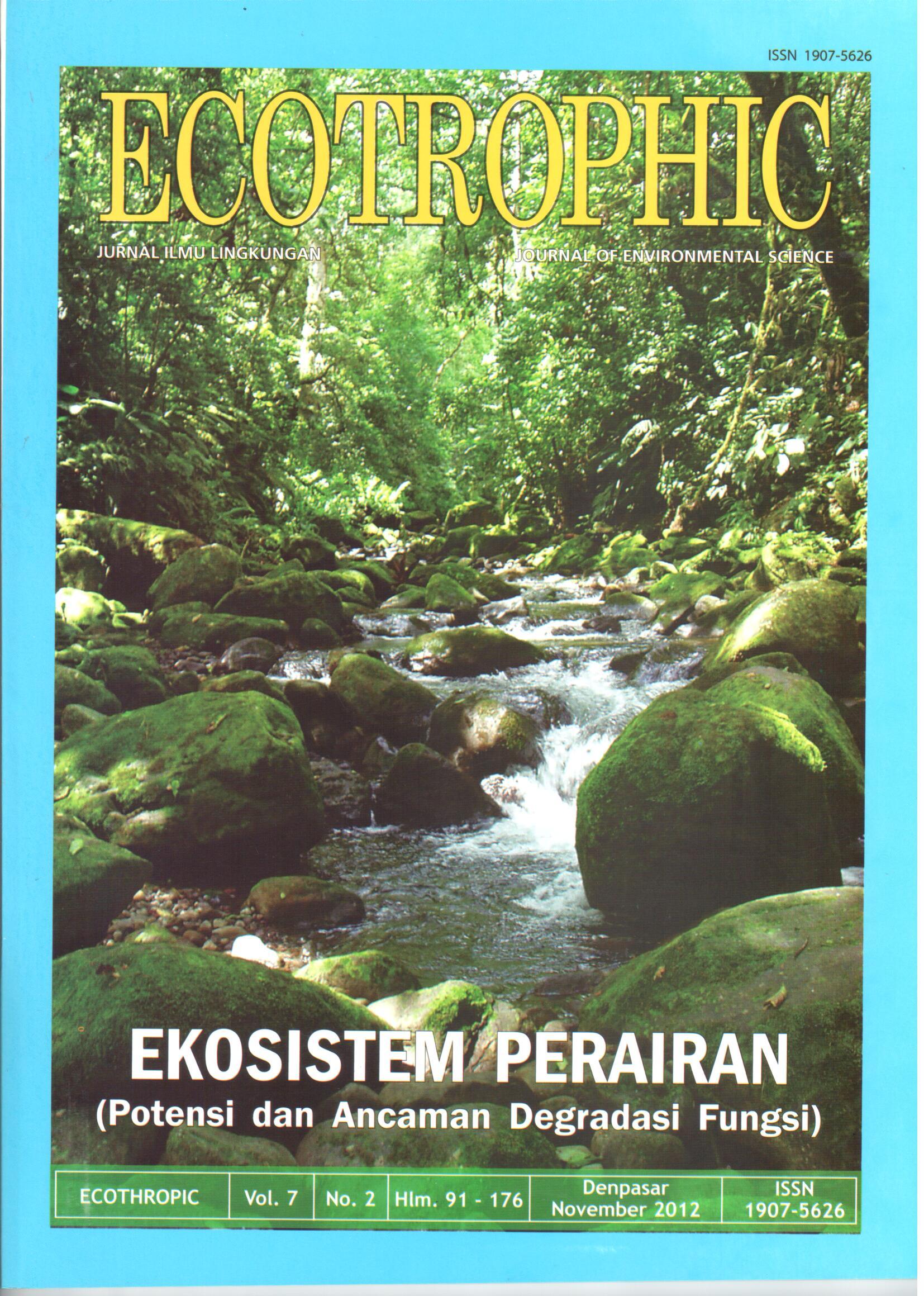 How to Cite
SUMANTRA, I NYOMAN; SUARNA, I Wayan. ANALISIS STATUS LINGKUNGAN IRIGASI TUKAD YEH EMPAS DAN SUBAK MUNDUK LENGGUNG DI DUSUN BOLANGAN DESA BABAHAN KECAMATAN PENEBEL KABUPATEN TABANAN.
ECOTROPHIC : Jurnal Ilmu Lingkungan (Journal of Environmental Science)
, [S.l.], v. 6, n. 2, p. 81 - 86, nov. 2011. ISSN 2503-3395. Available at: <
https://ojs.unud.ac.id/index.php/ECOTROPHIC/article/view/13356
>. Date accessed: 19 sep. 2019.
Keywords
livestock, environmental management, quality, quantity, public perception