POTENTIAL OF LIVESTOCK MANURE FOR COAL ACTIVATION
EllIN HARlIA HARlIA

Faculty of Animal Husbandry, Padjadjaran University

MARlINA ET

Faculty of Animal Husbandry, Padjadjaran University

MASITA R

Faculty of Animal Husbandry, Padjadjaran University

RAHMAH KN

Faculty of Animal Husbandry, Padjadjaran University
Abstract
The natural methane formed by bacteria in anaerobic conditions is known as biogenic gas. Gas trapped in coal, formed through thermogenesis as well as biogenesisis known as coal-bed methane (CBM). The availability of organic material as decomposition of this material into methane is continuously required for the production of methane in the coal aquifer. The aim of this research was to investigate whether or not cattle feces bacteria were able to grow and produce methane in coal. Parameters measured were Volatile Fatty Acids (VFA) and the production of biogas, such as nitrogen, hydrogen, carbon dioxide, and methane. Explorative method was used and data obtained was analyzed by descriptive approach. The results showed that the bacteria found in the feces survived in the coal and produce biogas. On day 2 when the process was at the acidogenesis phase, it produced VFA with the largest component of acetic acid. Acetic acid would undergo decarboxylation and reduction of CO2 followed by reactions of H2and CO2 to produce methane (CH4) and carbon dioxide (CO2) as the final products.
,
Downloads
Download data is not yet available.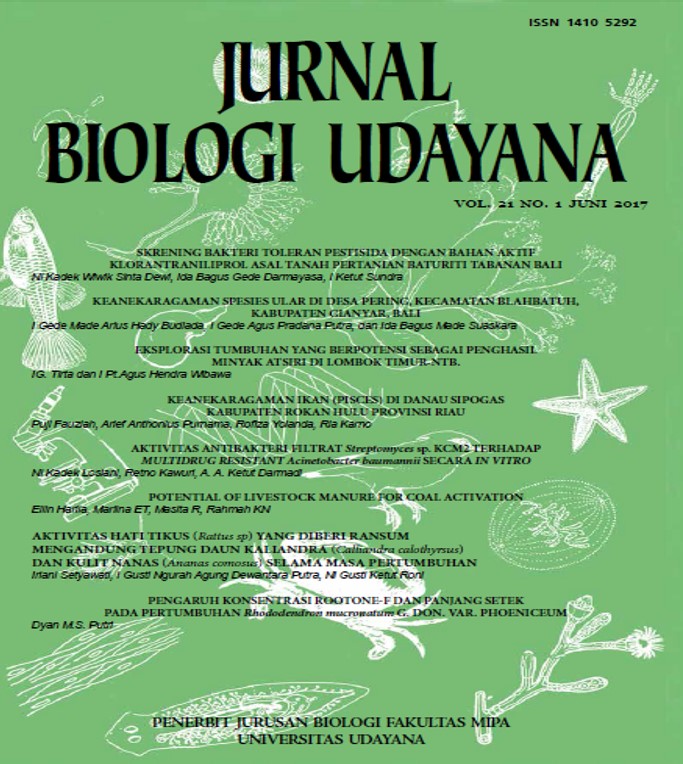 This work is licensed under a
Creative Commons Attribution 4.0 International License
.