Medicina [P-ISSN 2540-8313 | E-ISSN 2540-8321] is published by Department of Medicine, Udayana University, Bali, Indonesia in collaboration to Ikatan Dokter Indonesia (IDI) Regional Bali. Medicina is an open access, peer reviewed journal aiming to communicate high quality research articles, reviews and general articles in the field of medicine and surgery. Medicina publish articles which encompass all aspects of basic research/clinical studies related to the field of medical sciences. The Journal aims to bridge and integrate the intellectual, methodological, and substantive diversity of medical scholarship, and to encourage a vigorous dialogue between medical scholars and practitioners. The Journal welcomes contributions which promote the exchange of ideas and rational discourse between practicing educators and medical researchers all over the world.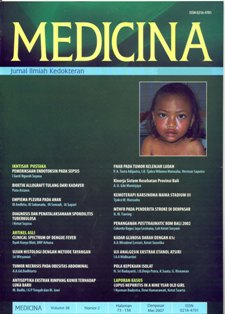 Vol 48, No 1 (2017): volume 48 no 1 Januari 2017
Table of Contents
Articles
| | |
| --- | --- |
| Leadless Permanent Pacemaker: A Review | PDF |
| Starry H. Rampengan, Hariyanto Wijaya, Hariyanto Wijaya, Gunawan Yoga, Gunawan Yoga, Janry A. Pangemanan, Janry A. Pangemanan, Agnes Lucia Panda, Agnes Lucia Panda | |

This work is licensed under a Creative Commons Attribution 4.0 International License.

View My Stats