E-Journal of Animal Science Udayana University (ISSN Online 2461-0224) welcome students, researchers and/or lecturer to submit their scientific manuscripts particularly in animal sciences or related fields which have not been published in any other journals. Manuscripts should be written in English with a maximum of 10 pages, typed in 1.5 space and font size 11 points. A Paper which has been presented in a certain seminar should be given a footnote. A 2.5 cm margin on both sides of the page is desirable.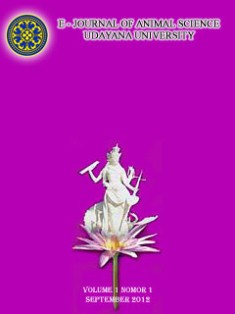 Vol 3, No 2, Tahun 2014
Table of Contents
Articles
This work is licensed under a
Creative Commons Attribution 4.0 International License
.

View My Stats